Questions and answers about QR codes
Most smartphones can read QR codes without any additional software. To do this, open the camera application on your device and focus on the QR code.
With us you can create your QR code for free and download it as image or vector data.
A distinction is made between static and dynamic QR codes. With static QR codes, all information is stored in the QR code. This means that this information is always available. With dynamic QR codes, only a link to a file, website, audio file... contained. This allows the data to be changed or deleted.
Basically all digital data. This is only limited by the maximum data size of 2.956 kB. With us you can create link to websites, emails, SMS, WhatsApp, vCards, texts, and much more.
On the website qr-code.global you can create and design QR codes for free. To do this, you select a suitable template and create the QR code. Then you have the option to download it as png or as svg.
Yes, with us you can create your QR code for free.
There is no limit with us. You can create as many QR codes as you want.
Create QR code for increased digital connectivity - fast, free and for a wide range of applications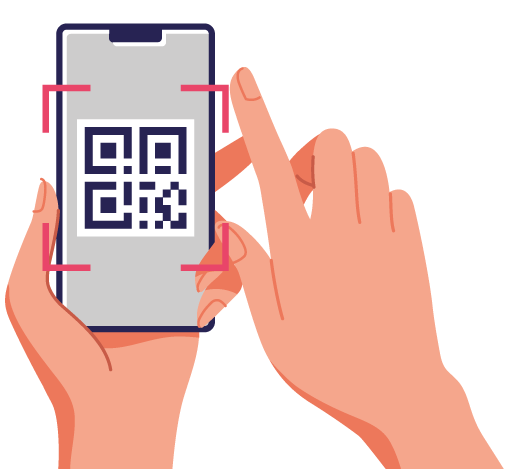 The most important info for those who want to generate a QR code and may have never used a QR Code Creator before.
Our world is becoming increasingly digital and is already highly networked in all possible places. In many contexts, things have to be fast and mobile today. The smartphone undoubtedly occupies a very central position in this development. It is practically always at hand and can advantageously influence many everyday processes through apps, websites, social media and other channels.
QR codes are often extremely helpful in this progressive integration. For example, they direct information seekers via their cell phones to the right website for the relevant concerns, allow contact data to be transmitted in a completely uncomplicated manner, communicate important news, or initiate SEPA transfers. End users need do nothing more than scan the code with their smartphone and ideally receive exactly the added value they need afterwards.
But what exactly is a QR code, how does it work and what can you create a QR code for? Get answers in this blog post!
What QR codes are and how they work?
A QR code is a type of barcode that can be easily read by a digital device and stores information as a series of pixels in a square grid.
QR codes are used for a wide variety of purposes today. Since many smartphones have built-in QR readers, they can be read quite easily by anyone who owns a cell phone. Companies are increasingly making use of such codes in marketing and advertising campaigns. Not least because it is not at all difficult to generate a QR code yourself. Moreover, it is quite possible to create QR codes and do so free of charge. Even those who want to create continuous or serial QR codes can do so for free.
There are basically two options for generating QR codes: Create QR codes for free with downloadable software or directly on the web, whereby the latter option usually proves to be much more practical. Furthermore, interested parties can create QR codes with freeware or alternatively via a paid service. Creating QR codes for free is the more efficient choice for the majority of typical users.
Japanese company Denso Wave, a Toyota subsidiary, invented the first QR code system in 1994. The company needed a precise way to track vehicles and parts during the manufacturing process. Denso Wave eventually made its QR code publicly available and stated that they would not exercise patent rights. This means that today anyone can create and use QR codes.
Initially, acceptance of the idea was slow. In 2002, however, the first cell phones with integrated QR scanners appeared on the market in Japan, which meant a further spread of corresponding codes. The triumph of smartphones then led to a sharp increase in the number of companies using QR codes.
Basically, a distinction is made between static and dynamic QR codes. Static QR codes are permanent. If you create dynamic QR codes, you can subsequently change the stored data. Creating dynamic QR codes is usually only possible with an account with the respective provider.
Generating a QR code is very easy and practical today - but how does such a code work in detail?
The patterns in QR codes are a type of binary code that can be interpreted by special readers or scanners. A QR scanner can recognize a conventional QR code by three large squares outside the code. Once these three shapes are detected, it is clear to the scanner that anything inside the square is a QR code to be read.
The QR scanner analyzes the QR code by dividing the whole thing into a grid. It assigns a value to each of the individual grid squares. Then it groups the grid squares to create larger patterns and evaluates them based on a coding.
A standard QR code can be identified by six components:
Silent zone

This is the blank white border that forms the outside of a QR code. This border gives the QR reader an important clue as to what belongs to the QR code and what does not.

Finder pattern

QR codes generally have three black squares in their corners - one at the bottom left, one at the top left, and one at the top right. These show the QR reader that it is a QR code and where the outer boundaries of the code are.

Alignment pattern

This other small square is located near the bottom right corner. It ensures that the QR code can be read even if it is crooked or at an angle.

Time pattern

This L-shaped line runs between the three squares of the Finder pattern. The structure - also called the timing pattern - helps the scanner to identify the different squares within the entire QR code.

Version information

This is a small information field located near the upper right cell of the Finder pattern. It shows the scanner which version of a code it is.

Data cells

The data cells that make up the rest of the QR code contain the actual information, i.e. the URL, email template, message, etc.
What are the benefits of creating a QR Cod?
Their versatility forms one of the very central reasons why QR codes are becoming increasingly popular in a wide variety of contexts.
You can create QR codes and attract customers online via connected offers. Or use the possibility to create QR codes with an image or create QR codes with a logo and strengthen your product or brand awareness additionally. Or have QR codes created automatically as well as create serial QR codes and design corresponding marketing or advertising activities with it extremely efficiently.
The generation works with us quickly online via a conventional browser - keyword "QR codes create software not required". So you don't need a special program. In addition, our QR Code Generator is free to use.
The key benefits you can reap when you create QR codes and use them for business are as follows.
1. create QR codes via QR code generator and promote exchange and networking.

QR codes are much more than just digital barcodes. They can be used to link a mobile device to the "Like" button on your Facebook page or to send users directly to your Twitter or LinkedIn page. When you engage your (potential) customers on social media, you have the opportunity to build a personal connection with them. This increases the chances that those will actually engage with your brand and perhaps recommend it to others. QR codes are generally quick to scan and are therefore also often tried out spontaneously. If you then convince them with real added value at the end of the connection, you can possibly profit in the long term.

2. create QR code with a QR generator and use it as a call-to-action medium.

You can create QR codes via QR Code Generator, which can then be linked to any content you can think of as a call-to-action medium. It's also possible to create a QR code and link it to an "email us" or "call us" prompt. Scanning the code then automatically leads to a mail form or initiates a call. There is a lot of potential here for companies to communicate new products or special offers.

3. generate QR code and push SEO using QR Code Creator

Did you know that using QR codes can push your search engine optimization? Since people like to try out QR codes spontaneously, a strategically clever display can lead to a lot of traffic on individual web pages. If the content on these is also highly valuable, this ideally results in intensive use. Both signals are very positively received by Google and can thus contribute significantly to a better ranking position.

4. create QR code via Free QR Code Generator and convince visually

When you generate a QR code with a QR code generator, you don't necessarily have to create small, black and white, pixelated boxes. You can definitely make the codes really interesting. It is possible to create QR codes with an image to give users a more accurate visual clue about what to expect when they scan. Creating QR codes with logo is another option that can be very useful. At best, this is a great way to boost your brand awareness - for example, by creating multiple QR codes in series that feature your logo and playing them out widely. With the right visuals, you may not even need to add explanatory text.

5. create QR code with QRCode generator and measure the performance precisely.

In online marketing, you can measure corresponding measures precisely and thus, for example, calculate the marketing budget or optimize efficiency and effectiveness based on data. There are also corresponding possibilities when using QR codes. Results can be measured in terms of leads, clicks and other conversions or specific KPIs. The analysis and improvement approaches are almost as diverse as the areas of application when you create QR codes yourself.

6. create code with QR generator to connect online and offline media.

Print media, such as flyers, brochures, posters, and business cards, have no direct connection to online media without further ado - at least as long as you don't create your own QR codes and include them there. More and more companies are using QR codes to link their print media to their website. This eliminates the need to include web addresses. Your target customers can simply scan the QR code and are taken directly from the offline world to the online world.

7. create QR code via QR code generator - because customers love it

Why do customers love QR codes? Well, for starters, they make their lives easier. They no longer have to write down web addresses, phone numbers, etc., or remember to visit a website later - a quick scan of a QR code and they're taken directly to the functions, data or processes they need. For B2B companies, appropriately straightforward processes are even more relevant, as they typically deal with people who have even less time than B2C customers or partners. The easier and faster such people can get in touch with you and learn more about what you have to offer, the more likely it is that you will achieve your B2B company goals vis-à-vis them.
Create QR Code with QR Generator step by step: How it works?
The most important thing in advance: You can use our QR Code Generator for free. There are also no hidden costs waiting for you. The QR Code Generator is free to use - guaranteed! Proceed as follows to create your own QR codes.
Choose which QR Code to create for free: If you want to create a QR Cod with us, you can choose from URL forwarding, vCard sharing, email template, call introduction, SEPA payment template, SMS template, Wi-Fi signup, WhatsApp template, text message, TikTok profile link and Instagram profile link. Choose the type you need first.
Enter information in the Free QR Code Generator and generate QR Code: After you have chosen which type of QR you want to create yourself, it's time to start entering data. Enter all the necessary information in the appropriate fields. Depending on what you want the code to convey, you first need to store a URL, a phone number, bank details, text or another data format. Furthermore, you can colorize your QR codes. Finally, select "Create QR code". With our system, you can not only get codes quickly and easily, but also create QR codes automatically - you don't need to do much more than enter the data.
Download and use QR code after creation: Your QR code will now be displayed in Free QR Code Generator. Feel free to check its function directly. If everything fits, save it on your device via the "Download" button. You can now create another QR code for free. Once you are done, use your codes online or in print media as needed.
Creating continuous QR codes is also very easy - you don't need a lot of processing power or a particularly fast Internet connection. Just quickly change the data in the interface if you want to create multiple QR codes and download them.
How to scan a QR code created with a QRCode generator?
Most smartphones have built-in QR scanners, which are now often built into the camera (app). Otherwise, a QR scanner app for the cell phone is the easiest way to read QR codes. Especially for some older devices, a specific app may be essential to use QR codes. These programs are available en masse from Apple's App Store and Google Play.
Scanning a QR code from a QR generator with a mobile device - with or without an extra scanning app - is quite simple:
Launch the QR scanner application or even the camera on your cell phone.
Point your phone at the QR code so that it appears in camera focus or within the scanning app.
A connection to the code's data is established immediately - but in order to use stored information, applications or processes, you may still need to confirm that you really want to access it.
Where can QR codes be used or what types of QR codes can be created with QR Code Generator free?
If you use our QR Code Generator for free, you can create the following types of QR Codes by yourself.
Create URL forwarding or website QR

Create a code with the QR Generator that will direct those who scan it directly to your website. Besides the possibility of creating a website QR, you can of course connect other URLs.

vCard Sharing QR Codes Create Online

You can easily share your contact information by using QR Code Generator to create one or more QR Codes for free and share them with relevant people.

Create Your Own QR Code Email Template

Simply link an email, including subject and message, to a QR code - for newsletter signups or support requests, for example.

Create code with QR generator for call initiation

With our QR Code Generator, you can create a code that establishes a telephone connection in no time - for example, for support, inquiries or even emergencies.

SEPA Payment Template via QR Code Creator

Simply enter bank data and create a QR code in the QR Generator with one click, which creates a direct link to a SEPA payment template - for invoices, fees, donations or similar payments.

Create SMS Template With Free QR Code Generator

Very similar to the email template, you can also create a code with the QR Generator that will link an SMS with phone number and message.

Create WLAN login with QR Code Generator for free

You can use our QR code generator for free to create a very direct way for WLAN login - specify network name, password and encryption type, done.

Create Free QR Codes For WhatsApp Templates

You can also use the QR Code Generator to create QRs yourself that link to a WhatsApp message - your support or newsletter marketing can benefit greatly here.

Create free QR codes for text messages

For messages that are very important in certain contexts, you can create QR codes yourself and communicate them to relevant people in the situations.

Create QR Codes for TikTok Profile Links with Freeware

You can create a special QR code that will direct its users to your TikTok profile.

Generate QR code for Instagram profile link

Likewise, you have the option to create free QR codes with us that lead users to specific Instagram profiles.
With a few changes, you can also easily create continuous QR codes in each of the areas.